Meet Our Newest Staff Member...Dorie Bridgeman
The American Board of Pediatric Dentistry (ABPD) is excited to introduce you to our newest staff member, Dorie Bridgeman.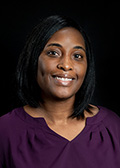 The American Board of Pediatric Dentistry (ABPD) is pleased to introduce you to ABPD's newest staff member.
Dorie Bridgeman has taken the position of Certifications Manager. Dorie works closely with the operations of ABPD examinations and assessment programs, which includes managing the Qualifying Examination, Oral Clinical Examination, Renewal of Certification Examination and Process (ROC-P). Dorie assists the Chief Assessment Officer with general issues related to ABPD.
Dorie earned a Bachelor of Science in Public Affairs from Indiana University and a Master of Public Administration from DePaul University. Dorie has worked in credentialing and testing since 2007. Dorie's prior experience includes working with certification programs in the medical and culinary industries.
In her spare time, Dorie enjoys listening to music, attending concerts and spending time with family and friends.
---